From the 5th to the 8th of November 2018 in Lisbon was held the best technology conference in the world, the Web Summit. That's the story of my second day.
I firstly would like to say thanks to all of you that have read and download my Survival Guide. I had the pleasure to met some of you and I am so happy to have been able to help you during these amazing Web Summit days. Second of all, this is the second one of four posts about my journey at the Web Summit: conferences, meetings, startups, and obviously some impressions of this edition.
Web Summit Day 2
My second day at the Web Summit started again with the Breakout startup session where I had the pleasure to listen to Jan Rezab, founder and CEO of Socialbakers one of the world's largest social media analytics companies and Lara Haemmerle, co-founder of Vantik that is building a modern retirement account.
This one was the day of MoneyConf, the fintech conference where the world's leading banks, tech firms and fintech startups meet (there's also a dedicated conference in Dublin every June, where I have been this year).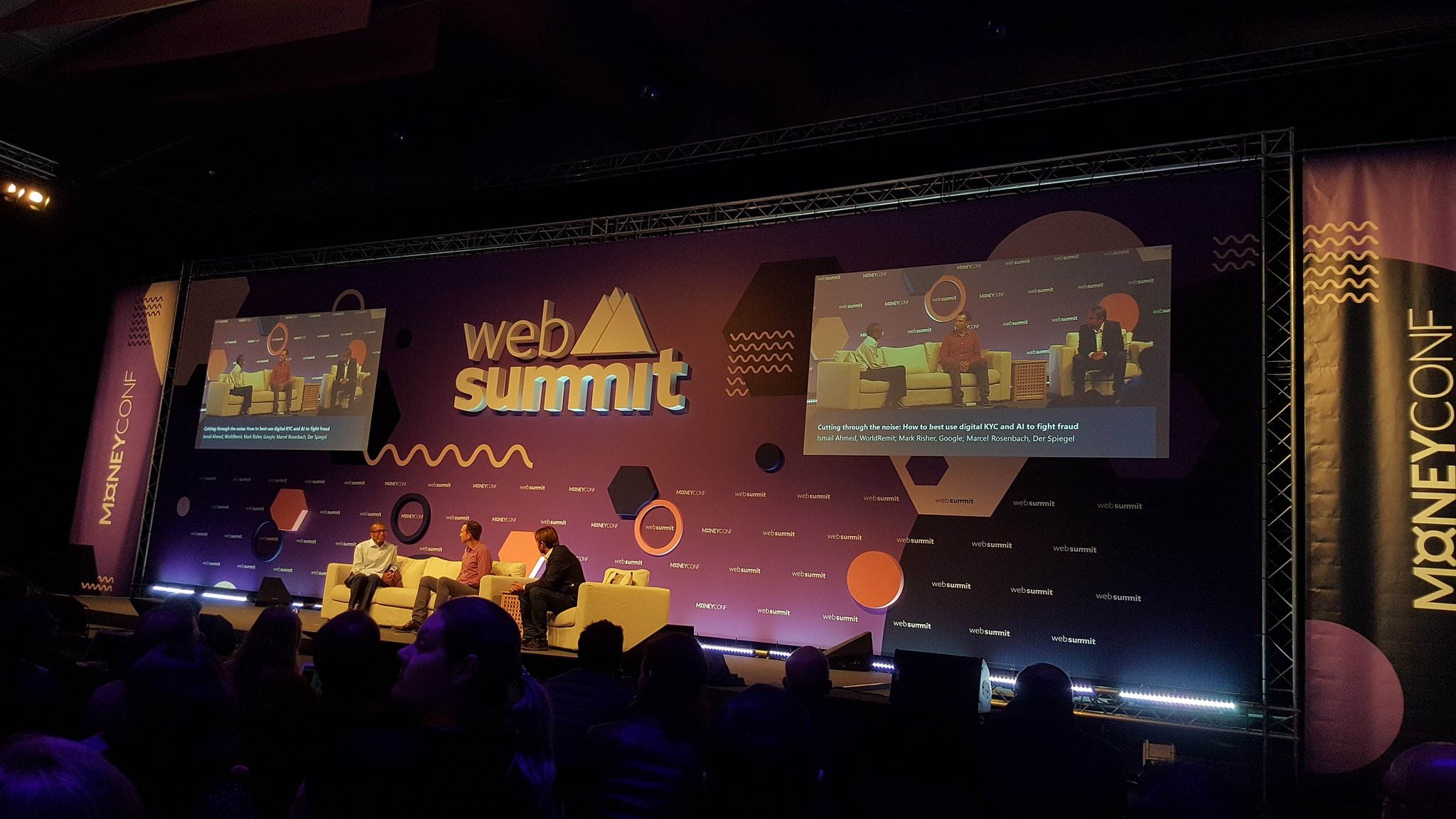 Ismail Ahmed, the founder of WorldRemit, one of the world's leading online money transfer services, with Google's Mark Risher and the journalist Marcel Rosenbach, discussed how to best use digital KYC and AI to fight fraud.
"One of the trends in security is personalization", said Risher. "The future is digital identities, including for financial services", said Ahmed and he stressed that the more data collected, the more personalized are services offered by financial companies. However, the director of product management at Google has argued that privacy should remain a priority, especially today when we have the GDPR.
I suggest you read the interesting Ismail Ahmed interview at Euronews about his company.
Then on the Centre Stage, Margrethe Vestager, the European Commissioner for Competition spoke about building a fairer digital economy and how we can get the best out of technology
"Digital tech has immense power to do good but with immense power also comes great risks, […] The time is over when the digital world can escape the rules that apply in offline life," she said. "What happens online doesn't remain online." Vestager showed the example of terrorism, which can be encouraged online but it becomes violence in the real world.
Vastager talks about Google in her speech, saying that even if "has been one of the great digital innovators… we can't put all our hopes for the future in the hands of one company. The real guarantee of an innovative future comes from keeping markets open."
"No matter how much Google has done—helping us navigate the web or making Android open source—we cannot look away when they threaten competition," she said.
You can see the entire speech up here and read the full transcription here. At the following press conference, Margrethe Vestager also said the U.S. has a "renewed deeper interest and curiosity as to what we are doing in Europe" on antitrust and tech regulation. Read the CNBC article for more
Then was the turn of Tony Blair, the former Prime Minister of Great Britain and Northern Ireland, is 100% opposed to Brexit and joined for a fireside discussion also about Trump and Midterm election results. Check out his conversation here.
Incredibile #entrepreneurs making an #impact and contributing to the achievement of the #Agenda2030 #SDGs.@mypolis_eu @academia_codigo @zenklub @goparity @aidhound

Here at the #workshop by @SantaCasaLisboa at the #WebSummit pic.twitter.com/9UMTDZSKpe

— Camillo Sirianni (@CamiSiri95) 7 novembre 2018
On that day, Santa Casa da Misericórdia de Lisboa, the Portuguese charitable organisation, and Casa do Impacto, organised a workshop focused on how digital technologies can be used to achieve the goals of sustainable development established by the United Nations by 2030. It aimed to mobilize entrepreneurs and startups present at the Web Summit for the (good) causes in the social domain, understood as opportunities for sustainable economic development aimed at the transformation of society.
I had the opportunity to discover 5 digital projects developed by Portuguese entrepreneurs contributing to the achievement of the Agenda 2030 SDGs. They were Bernardo Gonçalves, CEO of My Polis, Catarina Campino Head of Detail at Academia de Codigo, José Simões of Zen Club, Nuno Brito Jorge, CEO of Go Parity and Pedro Pimentel, CEO of Aidhound.
At Centre Stage, Brad Smith, President of Microsoft, emphasized the need for global cooperation on cybersecurity as technology continues to evolve. The benefits that technology has created are as dangerous as they are awe-inspiring, he said.
Smith said that when he speaks to the government about these attacks, they sometimes say "we don't really need to worry" because cyber attacks involve machines targeting machines, not machines targeting people. "That is a problem. Because people are being victimized by these attacks".
He called 2017 as a wake-up call, concerning the way people and governments are using tech tools as weapons, WannaCry and NotPetya were the prime examples. Hospitals were paralyzed when WannaCry hit the UK. At England's NHS 19,000 appointments were cancelled. Surgeries didn't happen.
"In a world where everything is connected, everything can be disrupted," he continued. Governments around the world must play a role in protecting civilians and civilian infrastructure and protect people while they're using devices on which their lives exist. However, governments can't do this alone, and so he also called the business community that has a higher responsibility.
"In the last century, the businessmen were silent. This century we can not keep silent." Smith made a digital peace alert and recalled the 100 years of the end of World War One. "We have to make this century better than we did in the last century." So he launched the challenge for everyone to sign the petition "Digital Peace Now" that you can read and sign by clicking here.
Microsoft wants to work with US Congress to establish cybersecurity measures for civilians, Smith told CNBC.
Startups Day 2
During this second day, I met some interesting startups and companies that are making incredible innovation in different industries. For some of them, I will write a dedicated post soon.
FinanceBox, an Italian fintech startup founded by Sano Musab Hijazi that is developing a platform for finance management that helps to build a saving plan and monitor your unnecessary expenses. It has an AI engine and machine learning to help build a very realistic financial scenario.
Likebank, founded by Elliot Goykhman, is messenger banking platform that creates a new banking experience. It's a chatbot technology enables people worldwide to do banking in their messengers, helping banks simplify onboarding, reduce operating expenses and lower client acquisition costs. It currently supports Facebook Messenger, Viber and Telegram.
---
Did you like this post? Subscribe to my Newsletter!
I do not spam, I will just send you one email per moths with the best of my posts.