11 millions of Italians use fintech and insurtech services. 55% of SMEs use the mobile app to interact with financial institutions. In the world, there are 275 Blockchain projects active in 105 banks and 1,210 fintech and insurtech startups, financed with $43.7 billion.
That is the scenario presented the 11th of December 2018 from the Fintech & Insurtech Observatory of the School of Management of Politecnico di Milano at the conference "Fintech & Insurtech: L'Italia spiega le vele".
Marco Giorgino, the Scientific Officer of the Observatory, introduced an Italian positive and growing scenario, where savings are growing despite the interest rates are still low and, during 2017,  SMEs increased revenues and profitability. Concerning the financial institutions, in the first nine months of 2018, only the first two Italian banks recorded a net income superior of € 3 billion and it shows that now all banks have the financial power to make investments, especially in the digital transformation.
According to Giorgino, banks should focus on 3 elements concerning their future:
Redefine activities that come from intermediation: revenues should rely on less from credit and more from services
Reduce cost-to-income and be more efficient
Increase the quality of their portfolio: manage better NPLs in their balance sheets
During the course of the last year, the use of Fintech & Insurtech services has a strong increase compared to a year ago (+ 54%), when the percentage stood at 16%. Today in Italy 11 million users have tried at least one fintech and insurtech service, equal to 25% of the Italian population between 18 and 74 years. They mainly use mobile payment (16%), money management and budget services (15%) and P2P transfer (12%).
The 92% of SMEs already interact with financial institutions through PC and 52% through a smartphone app. 64% of them use digital channel because are cheaper instead of traditional ones. At the same time, SMEs still buy insurances mainly using a traditional channel, only 15% of them have bought online coverage in total autonomy.
On average only 5% of SMEs have already used alternative financing methods such as Minibond, P2P lending, Crowdfunding, Supply Chain Finance solutions.
Banks and financial institutions have understood the importance of Blockchain and Distributed Ledger technologies: today there are 275 services, promoted by 105 financial institutions in the world, based on these technologies. But lot's of them are just announcement.
Valeria Portale, Research Director of the Observatory Blockchain & Distributed Ledger, showed a mature market where even Italian financial institutions started to invest in the blockchain, both participating in system solutions and individual projects.  But there are still 'sceptical' actors about the benefits of these technologies.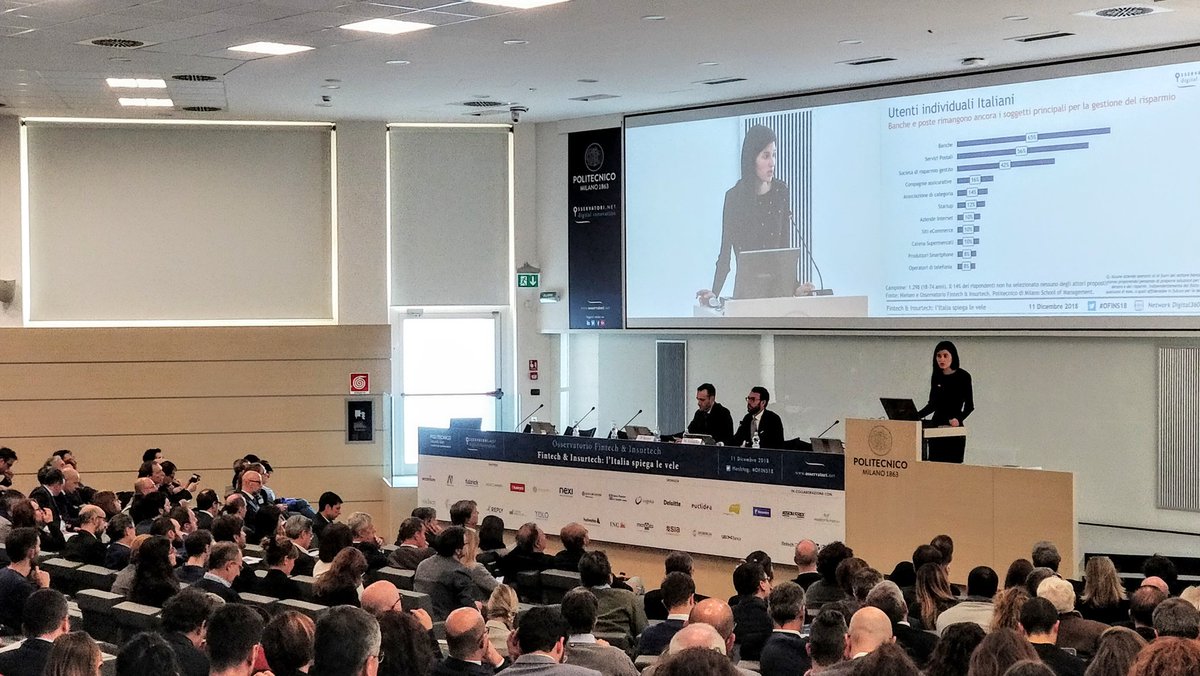 Italians continue to trust financial institutions: 73% of users prefer them for financing and 65% for asset management. Users, as well as turning to banks and postal operators, today it is entrusted to trade associations (14%), startups (12%), eCommerce sites, supermarket chains and companies internet (10%), smartphone manufacturers and telephony operators (8%).
Laura Grassi, Research Vice Director of the Fintech & Insurtech Observatory, notes that in the last year Robo Advisor is reversing the trend that provided for fully automated platforms while increasing the presence of a human referent driving or controlling the automation. It's important for the customer to know that the systems are not simple black boxes, but supervised by an expert manager frequently.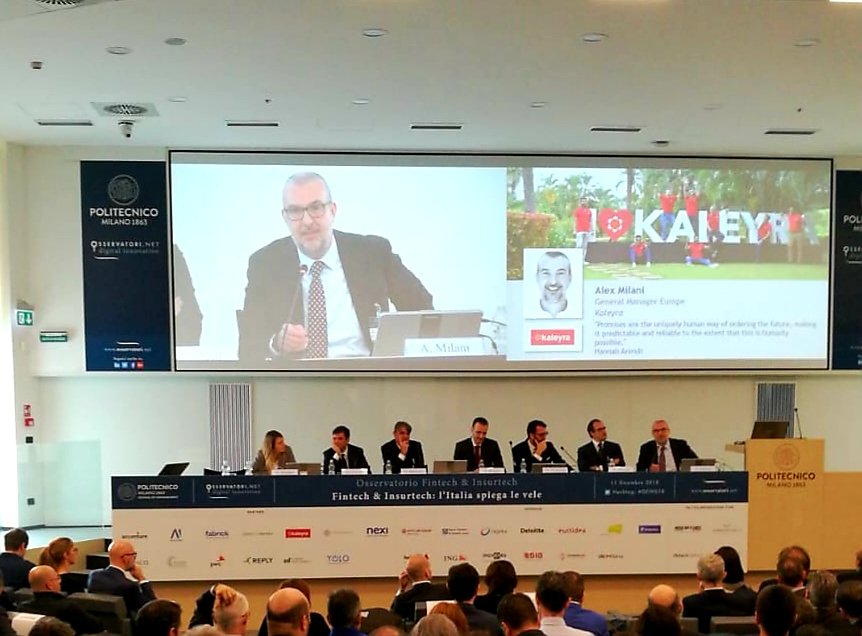 During the panel, Alex Milani General Manager Europe of Kaleyra, told us about the Indian Financial market and its innovative example: Unified Payment Interface and Demonetization are the fundamental pillars in this market that completely transformed it.
Alessandra Ceriani, Deloitte partner, told us some tangible uses of Artificial Intelligence into the financial sector: Wells Fargo uses AI to develop a better customer service; HSBC use it for transactions analysis and fraud detection; Lemonade made both an AI-based onboarding  and a claims management process and in 2016 did a claim settlement in 3 seconds.
Andrea Metelli from Reply listed the 12 points that incumbents should consider when making open finance projects with fintech startups:
Startup references
Pricing model concerning the capacity to be flexible
Operating model
Legal aspects, often they are foreign fintechs
The team of the fintech, in terms of quality and availability over the time
The offer
The technology platform, the APIs quality
The evolutionary road map
The supporting documentation
Other aspects regarding the localization, like the language spoken by the team
Process integration
Accessory services
The Observatory surveyed 1,210 Fintech & Insurtech startups born after 2013 that have received at least $ 1 million in funding between 2016-2018, for a total of $ 43.7 billion collected.
The USA is the area that collects more investments with $ 13.9 billion, followed by China with $ 13.4 billion, then the UK with $ 5.1 billion, Australia and India with $ 1.2 billion each. Italy is far away from them but it still growing: only 8 startups have exceeded the $ 1 million of loans received, for a total of $ 44 million.
51% of these startups offer banking services, 23% investments, 9%  insurance, indeed insurtech startups show the highest growth rate.
24% of fintech & insurtech adopt a collaborative business model that aims to help banks in digital transformation or sees them as intermediaries through which offer their services. However, 70% of startups aim to replace banks and insurance companies, placing themselves as competitors on a small number of services.
SplittyPay, the innovative payment platform that allows people to pay online purchases splitting the amount on multiple cards, wons the Fintech & Insurtech Award 2018.
Take away
So the financial ecosystem must accelerate the digital transformation process and it should take advantage of the opportunities offered by blockchain and Robo Advisor. We have seen positive and growing trends, but especially in Italy, we need more push, in my opinion.
Giorgino left us with 4 keywords for the digital transformation:
cultural evolution in the banking sector through comparison with the fintech startups
governance
financial resources and skills
solutions and experiments
You can download the infographic and the press release (both are in the Italian language).